Welcome back, Boracay!
When I say then, I mean it as a throwback to fifteen years ago. The first time I went to Boracay was for my honeymoon and I was blown away. I never really liked the beach. It wasn't one of my family's go to places growing up but when I stepped on Boracay's friendly shores, I was hooked. My beach standards leveled up significantly after that fateful day back in 2003.
Poor husband, no other beach trip after our honeymoon could compare to how it was during our ten-day vacation in Boracay. He has taken me to Bataan, Batangas, Bohol, Calatagan, Cebu, Zambales, and even Palawan but nothing ever really came close to the magical feeling of stepping on the finest powdery white sand I've ever experienced and swimming in the crystal clear waters of Boracay.
So let me start off my story with some throwback images from 2003 — my first time in a bikini, my first time to have a massage in public, my first time to actually fall in love with a hot and humid place, my first time to actually appreciate the beach. Throwback to when I was actually thin!
I know what you're thinking. If I loved it so much, why didn't I go back? Well, because adulting had to take precedence and when we could finally afford to go on other trips, we kept on thinking we should see something new and explore the Philippines one province at a time.
And then came the news of Boracay being too much of a party place and being the introverts that we are, we couldn't even fathom going there to deal with the crowds and the noise while on vacation. We get enough of that from our usual daily grind in Manila!
I'm glad we never really saw Boracay during the time that it was considered a cesspool. This is another reason why we never found ourselves back in Boracay's shores until just a few weeks ago. News of the ongoing rehabilitation got us curious and when our schedules freed up, I booked an impromptu trip for the family and decided to rekindle my love for the island.
I booked at the same resort where we had our honeymoon because I'm a sentimental fool and I wanted to share with our daughters almost everything that we experienced, and this is to quote them, '"back in the olden days." That phrase can really make one feel old! Is it funny to call Sea Wind Resort home when it's only my second time there?
Some say that it's outdated as compared to the other resorts in Station 1 but I like it. It's homey, it's open and airy, and a lot of the staff members have been with the resort for years. In fact, my husband's masseuse was the same one who massaged him 15 years ago! It was a hoot looking at photos of them together way back when.
Both of our trips to the island were quite similar. We wanted to see how much has changed and we wanted to share our Boracay (mis)adventure pre-kids compared to what we were experiencing with them. The only downside with traveling with minors? I get disapproving looks from my girls whenever I order an alcoholic drink. They get their Jonah's fruit shakes and I get my vodka. Doesn't that sound fair?
D' Mall is now a spruced up outdoor mall which is a far cry from how I remembered it. It used to be a tiangge type of place but now there are cemented and closed structures. I don't know how I feel about it exactly…I miss its rustic vibe but at the same time the new development looks like it won't be a fire hazard like how it was before. It's still has its charm, although a bit more metropolitan than before.
The sunsets are still downright stunning, the sand is still as white and fine as powdered milk, and the the water is completely clear and bright and just simply a sight for sore eyes. I've been trying out meditation lately and when I close my eyes I try to envision these images to help me clear my head.
Other islands are learning from what happened to Boracay. In this BusinessWorld article, Crecencio Cruz stated that other popular destinations such as Bohol and El Nido are already working towards the concept of sustainability.
There's been a lot of negative feedback regarding the island's closure last year as well as the speed of the rehabilitation, and understandably so. Locals had to scramble and find other ways to earn a living. Now that the island has reopened, there are still ongoing construction and some of the locals are saying that the government is taking its sweet time getting things done.
Now I'm not an expert in these types of things but I would think getting an island back to its original state (or close to it) would take quite a bit more time than the 6-month closure. It's not an easy feat to correct years of neglect and bad governance but given the lapsed time since rehabilitation started in April 2018, I think the island has come a long way.
Besides, we can't really blame our government entirely for the island's mishap. If business owners complied with the rules especially on waste management, and if the tourists were more mindful about respecting the island, then we wouldn't be in this mess in the first place. If only we were responsible human beings looking out for the environment.
DPWH and TIEZA in particular have been getting a lot of flack from the general public as the former is in charge of roadworks while the latter has been given authority on Boracay's water and sewerage systems. The original timetable of 7 years was reduced to 3 years and it's been just 1.5 years. Let's cut them some slack, shall we?
Frolic with Mother Nature
So what else did we do aside from rolling around with the waves and lounging on the fine milky powder sand? We barely scratched the surface of the new Boracay as we only a few days to spend on the island but here are our recommendations! For a more extensive list, I found a great resource article on The Poor Traveler's website.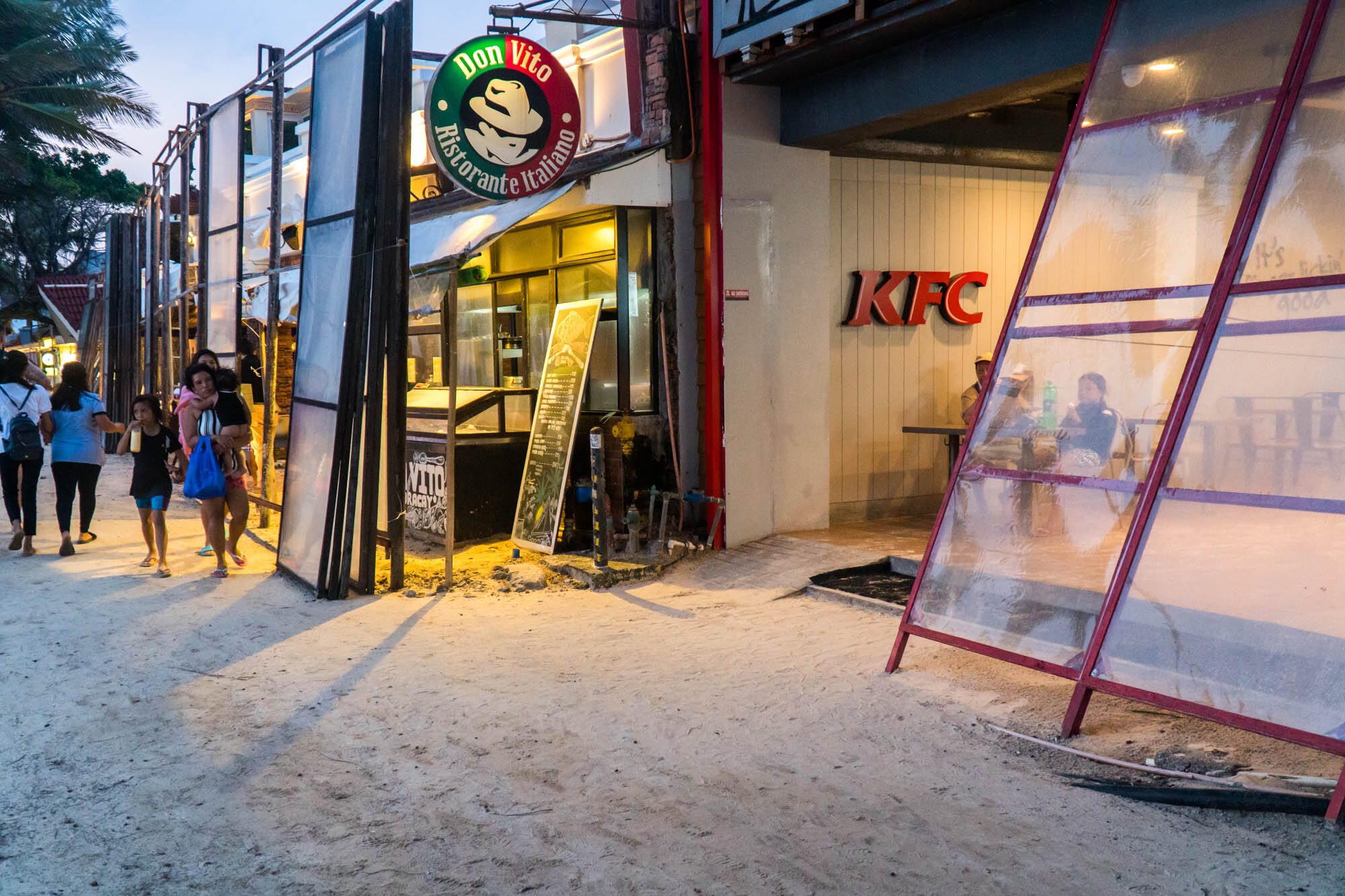 Shop and eat! So many interesting things to find at D' Mall and Puka Beach. As for food, we love to eat and our favorites were Aria's pizza and Marinara pasta, Two Seasons' oyster sisig, and Seawind's sinigang and liempo. Of course, Real Coffee's calamansi muffins is still quite popular with the tourists. I would prefer it more sour than sweet but that's me. I still enjoyed it though!
People watching is always an interesting activity. The sartorial choices of a lot of the foreign tourists were quite interesting but unfortunately I wasn't able to take photos of most of them.
Get henna tattoos. Price varies depending on design and ours were in the Php 350-450 range. It lasts for at least a couple of weeks so make sure this won't be a problem in school or at work!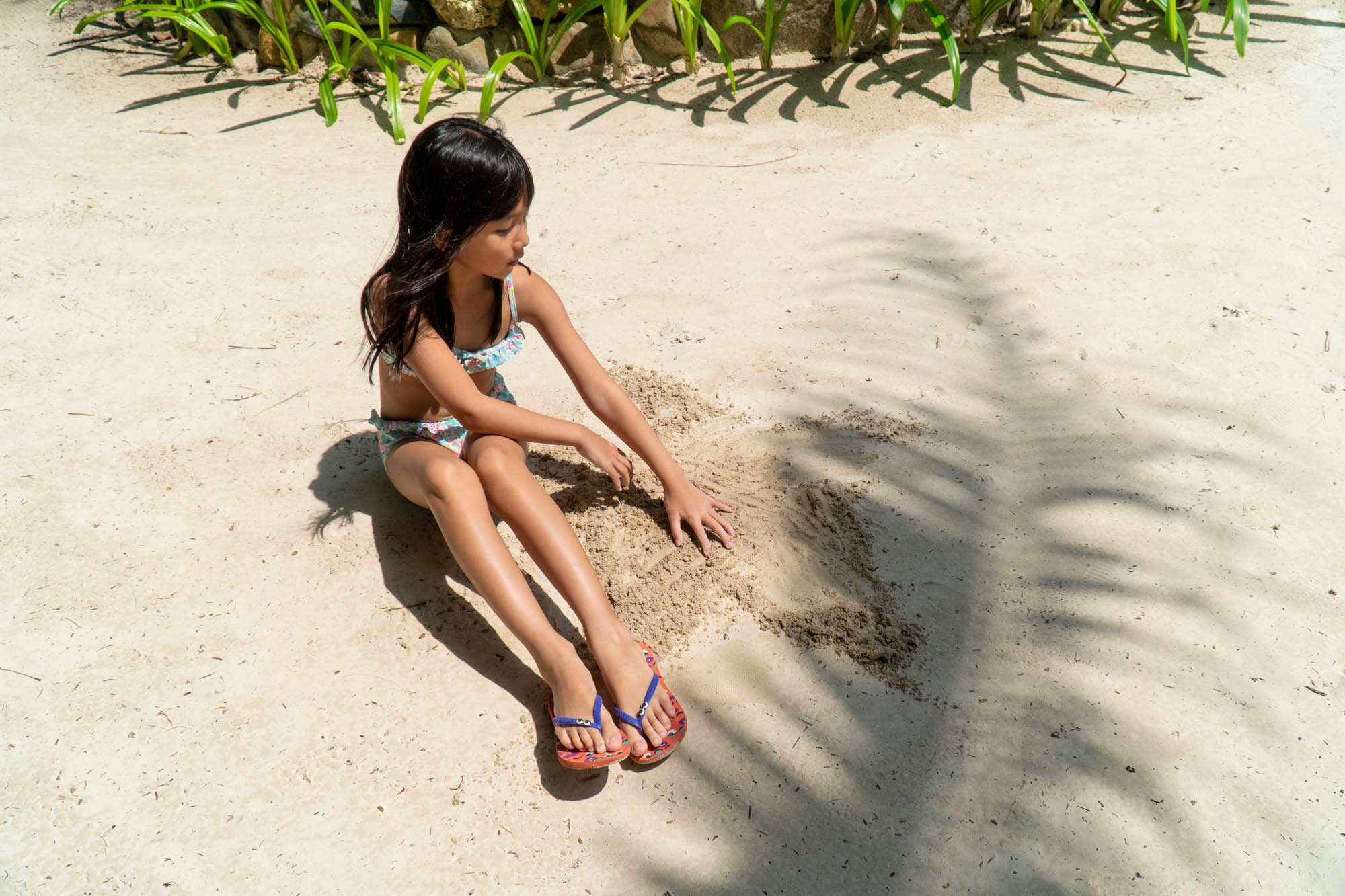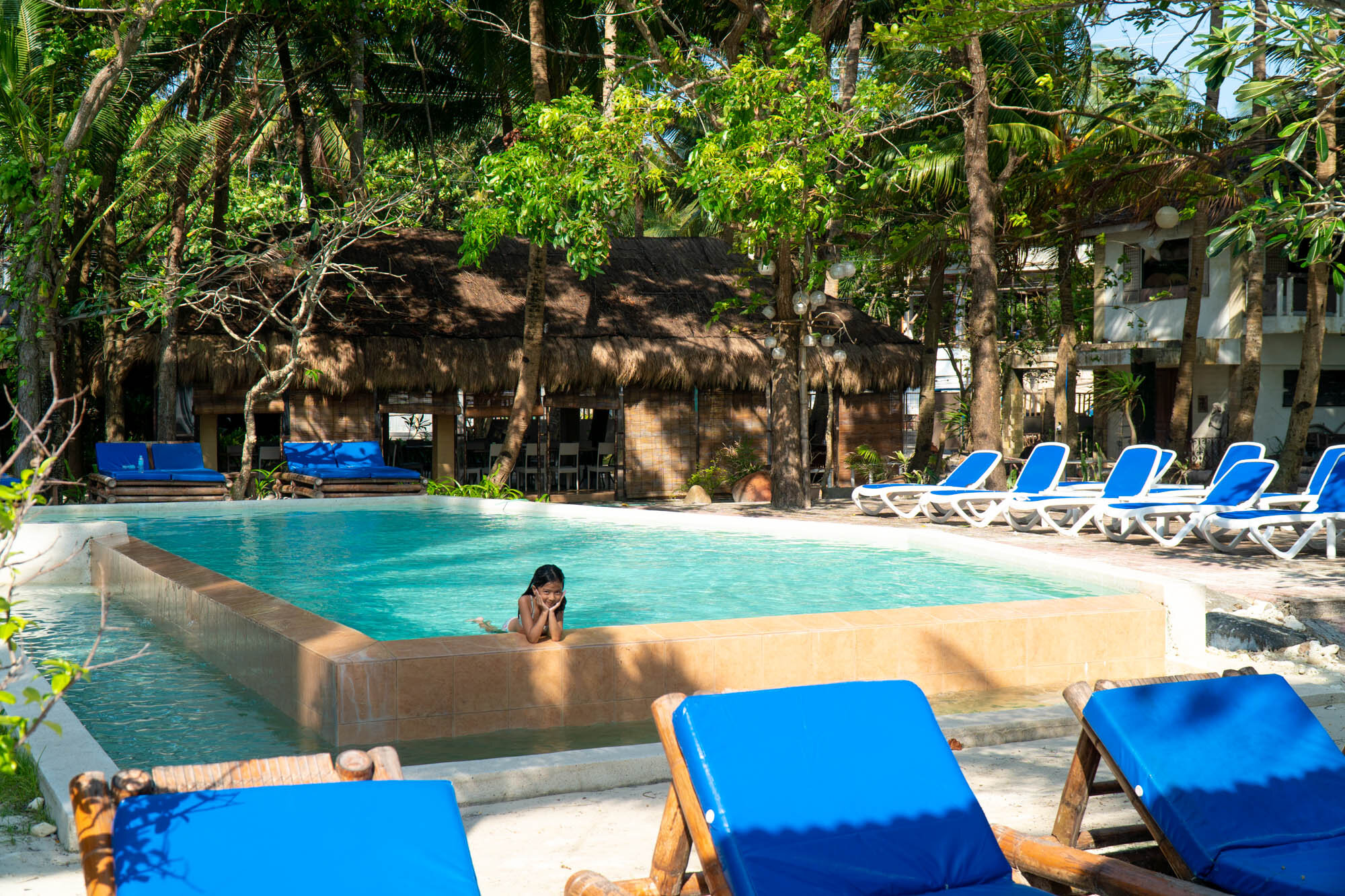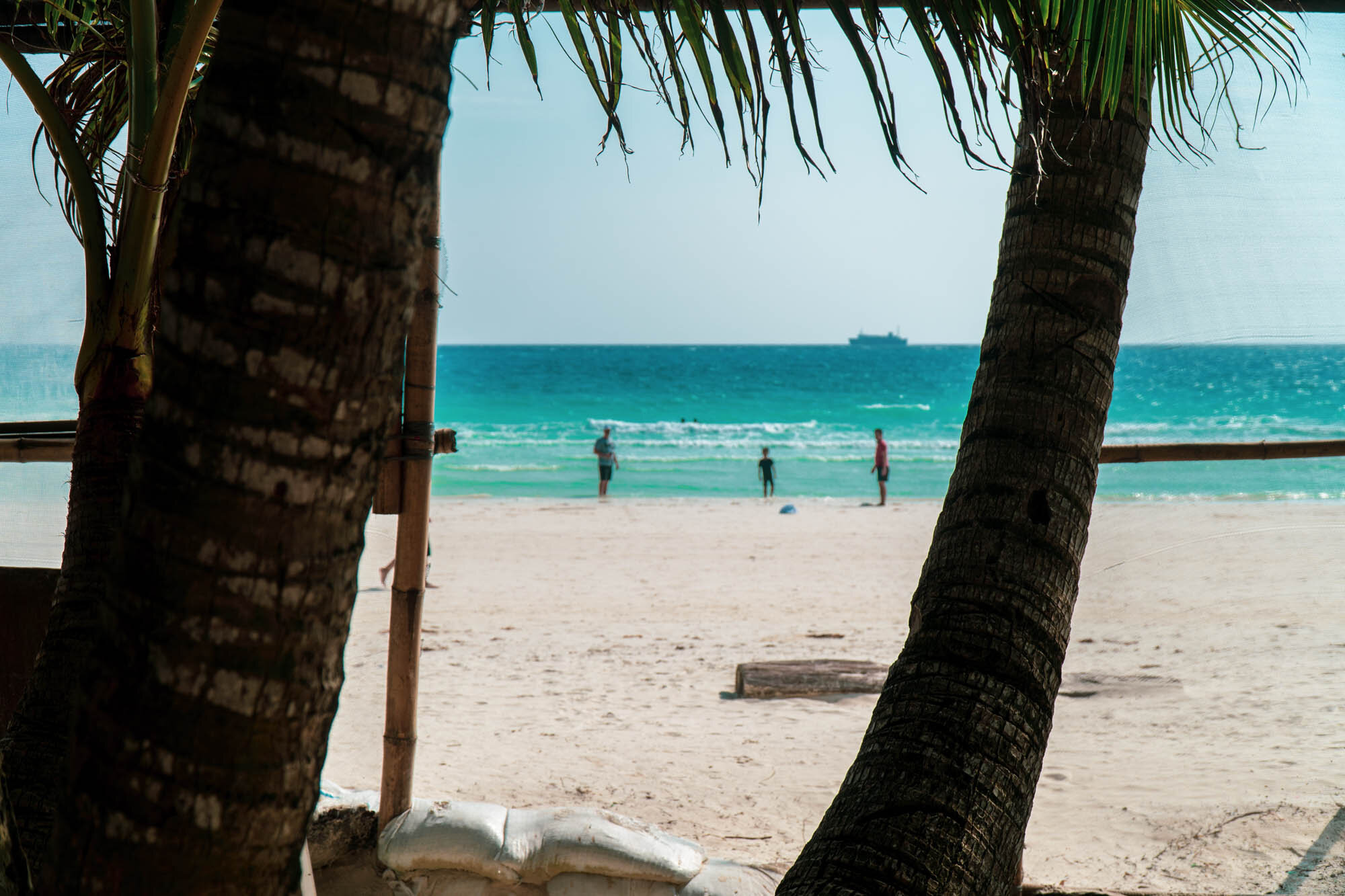 And as always, take loads of photos! I love collecting photos and since I have limited walls to display them, having an online photo journal is the next best thing.
Erin was the saddest when it was time to go. I promise we'll be back, my little island girl.
♡♡♡