Konnichiwa, Tokyo!
I dreaded writing this article. It took me seven months and seven days to actually sit down and put my thoughts together for this story. Don't get me wrong, Tokyo was nothing short of amazing but putting my experience in writing was quite daunting. I have loads of stories to tell and hundreds of photos to share! It took me awhile to sort out what to post on this article, and I decided on making a mish mash of sorts - maybe something like a photo essay with some stories injected in between, yes?
Walk this way. Or that way.
Or, National (Un)Dress Day if we go by this gentleman's outfit. Our first taste of Tokyo was Halloween and Erin was absolutely thrilled that her Wonder Woman costume was put to good use! If you thought that the Japanese were already creative dressers during a normal day, you'd be in for a treat if you visit them during Halloween.
Instead of trick or treating, Halloween in Tokyo is celebrated by wearing crazy costumes and partying in the streets. Some of the locals probably found it funny and strange that we were dressed in normal clothes (except for Erin) so some asked for a photo with us! Seeing the locals hamming it up with their crazy getup was definitely a highlight of our trip.
The happiest place on earth
If you've read my past posts then you'll know that my family and I prefer going to places with no crowds. We try to avoid the tourist traps and we really try to experience a place the closest possible way that the locals enjoy it.
But how can we say no to our two girls and our nephew? It was already a given that we'd devote two days of our eight day trip to Tokyo DisneySea and Disneyland. And yes, I do agree that it is the happiest place on Earth!
Style Files
Tokyo is full of contradictions when it comes to fashion. There are those who are seen wearing minimalist clothing, prioritising comfort. Then on the flip side, you'll see cosplay outfits or costume-like clothes in the most random of places. There is also what the Japanese call Osorio Code (or matching outfits) which is quite popular with the younger generation. Read my 6 y/o's commentary on these fashion finds!
The Osorio Code is a physical manifestation of the feeling of solidarity or closeness. Thanks to Lenian Gaspar for the photos!
We love watching people. What we love even more is shooting candid photos of them. I would've gotten more photos and videos but I was too shy to point my camera to anyone looking my way! I always try to imagine the stories of the diverse characters that I encounter and Tokyo gave me so much imaginary content to entertain me for days. What's my favorite among this batch of photos?
The girl in the white dress with an umbrella like thing on her face. Maybe she's a performance artist preparing for a big show and she's trying out her concept along the streets of Ginza before doing it in front of a bigger audience. Or maybe she's just that right amount of kooky and wants to bring a bit of entertainment to the weekend crowd of Tokyo. I love her, whatever her reason is.
Tokyo is so densely populated with a wide metropolitan area home to several large corporations in Japan. With it being one of the largest urban sprawls in the world, I love that they still found a way to incorporate (huge) pockets of greens here and there to give its residents a breath of fresh air away from the hustle and bustle of the city.
We loved hanging out at Mori Garden which was in the middle of all the scrycrapers in the area (it was also on the way to our favorite breakfast place, McDonald's in Roponggi Hills). We were also able to check out Rikugien Garden, a gorgeous park with trails snaking within the vicinity leading to pockets in the forest and open lawns.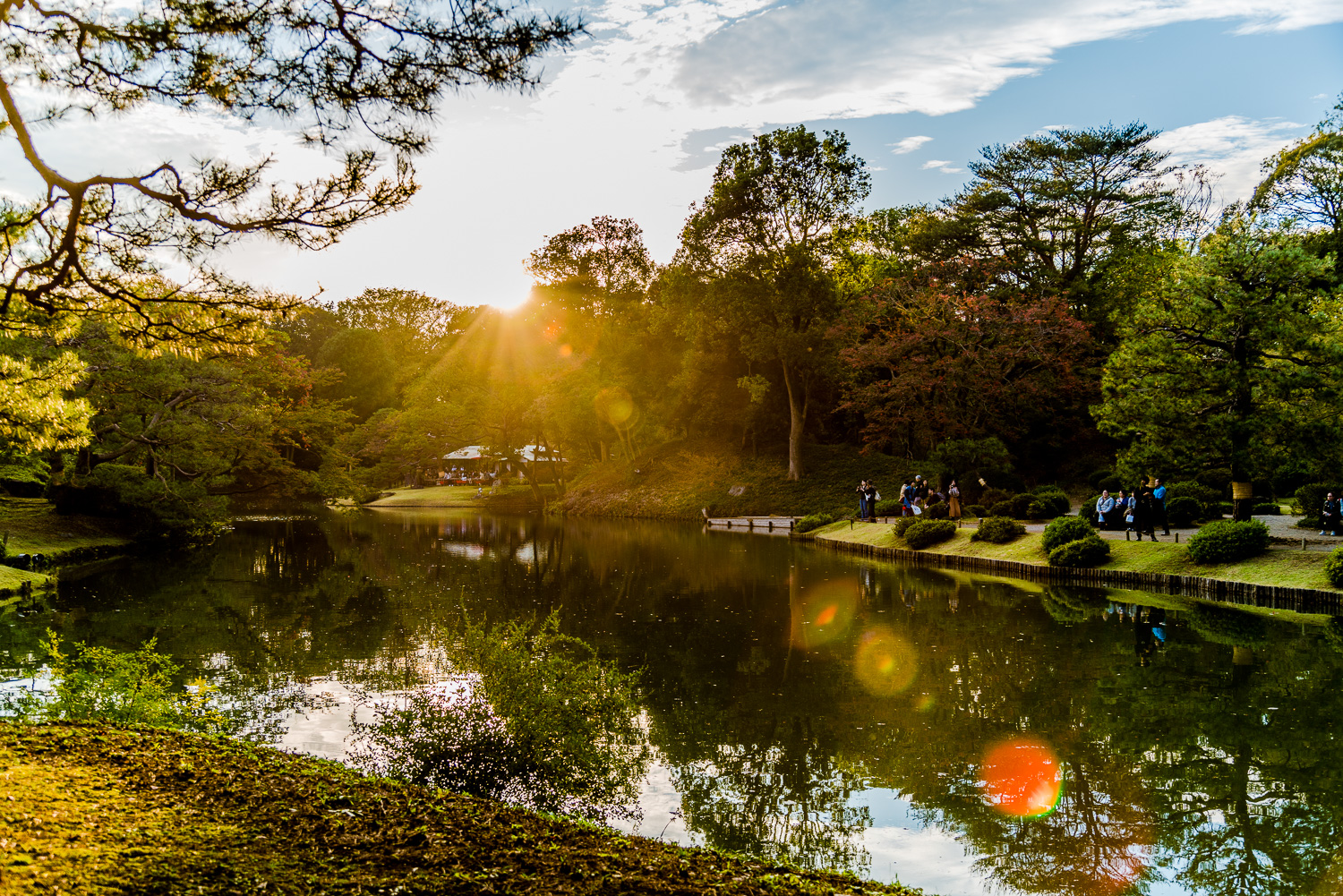 My husband Miguel, car nut, and 1/3 of Opus Macchina, kept on ogling at these gorgeous vehicles. Can't blame him!
I am horrible at documenting food because I would rather attack and eat than take a bunch of photos before tasting. I like eating it hot and fresh! I think everything we ate was so delicious, whether it was bought at some fancy restaurant, at the market, along the street, or at a convenience store like 7-11 or Family Mart. We'd usually grab something quick to bite for breakfast and we'd get our fix from McDonald's or Family Mart. I am NOT a huge fan of the McDonald's franchise and I am boycotting the ones here in the Philippines, but I would gladly eat at the McDonald's in Tokyo every day. It's so clean, their value meals come with sides like corn, and the packaging of their sauces are so well thought of that you don't get your hands dirty while opening them.
Our favorite at Family Mart was the Onigiri which you can eat on the go. That's another winner when it comes to packaging! While it's inside the plastic, the seaweed is outside the rice but when you remove the plastic a certain way, the rice is wrapped by the seaweed. Love it. Other cheap but yummy finds at both 7-11 and Family Mart are the ramen and the fresh fruits. Not everything in Tokyo is expensive. You just have to pick what you eat! And even if you're on a tight budget, there are some restaurants that are priced mid-range (some are even cheaper than Manila restaurants). Oh, and I wasn't able to take photos, but you must eat at Shake Shack. Sweet Ecstasy here in Manila is a close second, in case you haven't tried Shake Shack yet.
We barely scratched Tokyo's surface and we're so eager to go back for more. We'd also love to explore the other parts of Japan! True, adjusting to the pace of the others will always be difficult at first but I think creating new memories with your loved ones will always outweigh the the so called negatives of group travel.
I will always remember spending hours in a Spanish restaurant near our hotel eating plates of prosciutto and drinking several glasses of wine with my family. My kids, who were already close to my parents before the trip, got a chance to further cement that bond when they all went on rides together in DisneySea and Disneyland.
Experiencing different cultures and seeing new things together is what I love most about traveling with my family. And since I have a faulty memory, I post snippets of stories on my Instagram account and a longer version on this website so that I can go back to it every so often. And if you've made it all the way to this part of the article, thank you so much for reading my ramblings! Send me a message to say hi because I think I'm the only one who reads the stuff that I post here (aside from my husband who proofreads my articles).
またすぐに会いましょう
Mata sugu ni aimashō
Oh, Tokyo. You make me homesick for you even if you're not really my home. See you again soon (I hope).